Learn advanced strategies to building massive subscriber lists and keep them opening your emails.
If you can answer yes to the following questions you'll want to get your hands on the List Building Masterclass!
Have you been looking for a great way to get more subscribers?
Do you constantly seek quality information to provide to your readers?
Have you been looking for a way to quickly increase awareness, traffic and profits for your website?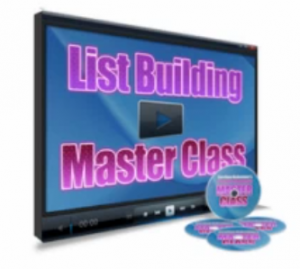 Did you know that email marketing holds many benefits for online business owners and one of the biggest advantages is the ability to reach consumers who are interested in the products and services you have to offer?!
When it comes to using email marketing as a business strategy, it can be an extremely effective tool that is often under-utilized. In fact, it has the potential to bring in a steady flow of traffic and new leads for your business.
But the simple fact is most people don't fully understand how to optimize their email marketing campaigns to achieve maximum results!
The List Building Masterclass was specifically designed to show even absolute beginners how to optimize their email marketing campaigns so that they can achieve better results from their efforts. Even if you have never thought about the importance of optimizing your email marketing campaigns before, you will quickly understand why and how you can use simple techniques to improve the results from every email they send!
Once you have watched the List Building Masterclass you will be able to set up your very own Mailing List quickly and use it to educate your members, subscribers and as a lead generating tool to get more traffic to your website. Remember to take notes as you watch the video tutorial.
The List Building Masterclass is quality information that will help you understand what email marketing optimization is and how you can take full advantage of everything it has to offer! Click below to access it NOW.